Roof Reports
Are you needing a Roof Report, or for a House Inspection prior to purchasing a home.
We also complete Roof Report for Hail and or Storm damage, If your roof is damaged during a storm, the first thing to do is contact your insurance agent. You will need to ask about their policy regarding the filing of roofing insurance claims for storm damage.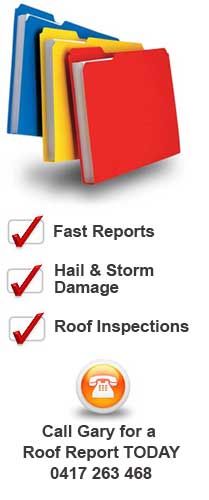 We offer Roof Reports:-
External Inspection
Roof condition & potential works
Chimney stacks / parapet walls
Weathering details: Flashings,Valleys etc
Problems with Partywalls to adjoining properties.
Flat roofing & Skylights
Internal Inspection
Roof structure inspection for defects
Insulation
Ventilation
Top floor ceilings
Full written report with photographic evidence.
Recommendations for remedial work
(with associated costs if required)
We work with NRMA (Home Building Insurance), AAMI and other top Insurance companies within Australia